For our updated website please go to WWW.ORLYBENDAVID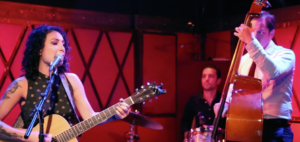 SINGLE RELEASE
"HOPE IS A TRAITOR" 
                                        8/20/20
                          
Orly Bendavid has the soul of a poet and the heart of a warrior. Her songs often explore life's darker side, shining a light onto difficult emotional situations with unforgettable melodies and lyrics that combine humor and uncompromising honesty. She's been playing music for as long as she can remember, but had to overcome an almost crippling stage fright before becoming a performer.
"When I picked up the guitar in junior high school, everyone made fun of me," Bendavid said. "I was petite and the guitar was almost bigger than I was. I stopped playing for a few years, then picked up the guitar again in college and started writing songs. I grew up on VH1, MTV and pop music, but Ani DiFranco stopped me dead in my tracks. Her honesty, guitar skills and fierce lyrics pushed every boundary and inspired me."
"I grew up in LA and played in one band there, before moving to New York. After working several pointless jobs, I decided to get my masters in Music Therapy. The therapeutic training taught me how to listen deeply and look at my addictions and intimacy issues honestly. Songwriting helped me get through this transition and glue myself together."
Along the way, Bendavid played in bands, and at open mics, gradually overcoming her inhibitions to take on the role of lead singer, guitarist and songwriter. After moving to Brooklyn, she put together The Mona Dahls, with three other female identifying musicians. Over the years, the band slowly evolved into the current lineup: Curtis J. Brewer, lead guitar and producer; Michael Talley, bass; Robin "Mitch" Mitchell, keyboards, Ariel Weissberger, drums and percussion and violinist Daniella Fischetti. The players all have long musical histories and bring elements of jazz, classical and world music to the arrangements. "I come from an Israeli/ Moroccan background," Bendavid says. "That music is so mournful. As the melodies unfold, they are filled with longing and melodic tension, so my relationship to minor and diminished chords is slightly obsessive."
Hope is a Traitor will be released on Bendavid's own label. The band is raising the money to finish the album with a Kickstarter campaign. "The tracks were completed over a one year period," Bendavid explained. "We're crowdfunding to mix, master, advertise and publicize the album. We're also playing as many live dates as possible. I play solo much of the time, so I feel good when we can all get together on stage. There's banter and a lot of storytelling. I like to interact with the audience as much as possible."
MEET THE MONA DAHLS
Curtis J. Brewer is the band's guitarist, arranger and producer. He provides the emotional and artistic glue that holds the group together and guides them through the recording process. He was born in St. Louis and combines his Master's in jazz education with the work he's done playing in the country, rock, and blues clubs of his hometown His website is www.curtisjsocial.com
Michael Talley plays acoustic and electric bass. Originally from San Angelo, TX, he spent most of the last decade in Dallas, and then Nashville, touring with various bands. He moved to New York to work as a concert piano tech for Steinway Pianos and tunes the pianos at Carnegie Hall when he's not playing with the Mona Dahls.
Robin Mitchell plays keyboards and likes to be called "Mitch Mitchell." He's a music therapist, with an amazing knack of picking up melodies and improvising to bring out their best qualities. His solo website is www.robinmitchmitchell.com
Ariel Weissberger is a drummer and percussionist from Monterrey, Mexico. He has an Jewish background and adds a multi-cultural perspective with the Latin, Jewish, Middle Eastern and Jazz influenced rhythms he lays down for the band. He also teaches drumming and percussion, facilitates community drumming groups and provides music therapy services through his company berkomusictherapy.com
Daniella Fischetti plays violin. She trained classically at the Manhattan School of Music before discovering her love of improvisation and non-classical music. She's played in orchestras, pit orchestras, jazz ensembles, rock bands, country groups and bluegrass bands. She loves collaborating with singer-songwriters, writing fiddle tunes and performing with the gypsy jazz quartet Pyrenesia. She leads a monthly bluegrass jam in Lambertville, NJ.
Orly Bendavid has been played on, and performed at the following venues:
Rockwood Music Hall: stages 1,2, & 3
Pete's Candy Store
Mercury Lounge
Sofar Sounds 2015, 2016, 2017, 2018
Luthier's Coop
Falcon Ridge Folk Festival
NERFA
Sidewalk Cafe
Caffe Vivaldi
Radio Nowhere
WDFU
KDVS
WNY
WEMF
(see press below)
---
ALBUM:
---
LIVE PERFORMANCES AND MUSIC VIDEOS:
OH GOD – MUSIC VIDEO

NOSTALGIA (SOLO PERFORMANCE) – SOFAR SOUNDS 2017

JESUS' HALO (SOLO PERFORMANCE) CITY WINERY 2017
---
PRESS
---
Orly Bendavid (and The Mona Dahl's from her last album) gives indie folk a bit of a spicy cross over into country and chamber pop at times, but here in this live cut from the amazing Sofar Sounds YouTube channel (oh how I would love to visit and play there) shows off Orly's talent when she's on her own.
"Nostalgia" is her new single and it has a jazzy reflective feel to it. Just as well really – and we'll be reviewing her 2016 album in May just to cover the Nostalgic theme too.
read it here:
https://higherplainmusic.com/2017/04/09/live-vault-orly-bendavid/
2019 – Editor's Pick The New York Jewish Week
https://jewishweek.timesofisrael.com/nyc-jewish-y-events-august-16-24/
2020 – John Platt's (WFUV) On Your Radar
---
PHOTOS: